Montpellier – 22 January 2018 –
Cutting Edge is proud to announce the opening of its Spanish offices, following successful registration of its newest IOLs, OVDs and retinal liquids & gas portfolios. Commercial operations will start immediately under the leadership of Jordi Rojals (General Manager Cutting Edge Surgical Espana SL).
"Jordi is a seasoned executive with more than 25 years expertise in the Ophthalmology industry. We are delighted Xavi Puig, Noëlia Martinez and Rafael Mansilla joined the organisation recently, they will be supported by Jenny Hernandez and Blanca Romaniega to deliver an unsurpassed customer experience to our end-users in Spain" said Lionel Jouet (International Director).
The Cutting Edge new Spanish offices is located in Barcelona with sales organisation deployed around the country. Our first Synthesis MICS IOL implantation was performed in Valencia and the team meet immediate adoption for the preloaded Synthesis ' A concentrate of innovations' IOL.
General Managers, Jean-Pierre Boudet & Yves Brouquet commented that: "During 2018, Cutting Edge will continue to expand its international activities beyond Europe. With the acquisition of Kestrel Ophthalmics, our UK subsidiary, in addition to our direct presence in France and Belgium, the Cutting Edge Group is strengthening its presence in Germany, Italy and Poland, we can foresee great potential for our hydrophilic and up-coming hydrophobic intra-ocular lens platforms. Following our multi-site kick-off meetings this month, we have built a strong international brand and brilliant team spirit, we are all geared up for a great 2018!"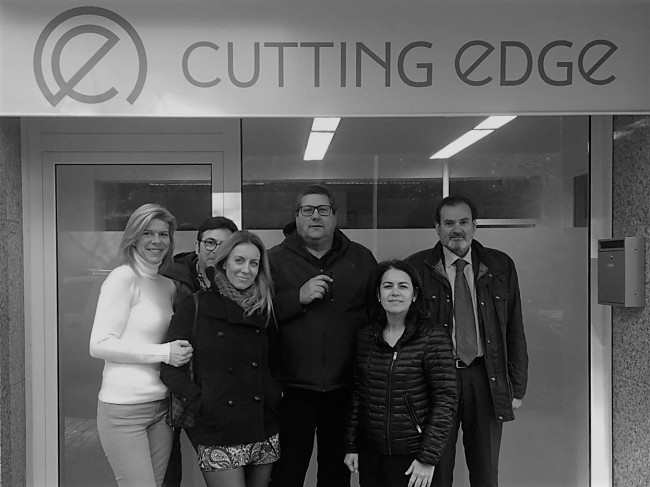 —
Cutting Edge SAS builds experienced and dedicated teams to design, prototype and manufacture high-quality Intraocular Lenses. Cutting Edge' state-of-the-art facility located in Toulouse, France honours the quality and process sophistication of the medical device industry. Cutting Edge's creative Research & Development department is continuously searching for new and innovative products and solutions in the field of eye surgery in conjunction with our network of scientific partners, suppliers, and commercial organisation. Cutting Edge provides flexible and agile world-class surgical solutions to serve its worldwide partners. Cutting Edge SAS headquarters are in Montpellier, France.