Toulouse – 04 March 2020 –
Cutting Edge is delighted to announce its Synthesis™ Toric -High Precision- IOL received clearance for use in Greece.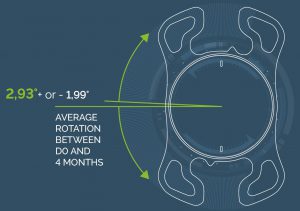 Synthesis Toric is the newest innovation for safe, reproducible and MICS (Micro Incision Cataract Surgery) through a sub-2mm incision. The 4-point fixation and C-Edge+ (≤ 5 microns) intraocular lens (IOL) features a 6mm optic and 11mm overall diameter. The range offers a large combination of sphere/cylinder.
A prospective monocentric clinical study concluded that 93% of patients had less than 5° rotation from surgery day (DO) over a 4 months follow-up period and an average rotation of 2.93° at 4 months.
The Cutting Edge online Toric calculator takes into account posterior corneal astigmatism. Click here to explore.
—
Cutting Edge SAS builds experienced and dedicated teams to design, prototype and manufacture high-quality Intraocular Lenses. Cutting Edge' state-of-the-art facility located in Toulouse, France honours the quality and process sophistication of the medical device industry. Cutting Edge's creative Research & Development department is continuously searching for new and innovative products and solutions in the field of eye surgery in conjunction with our network of scientific partners, suppliers, and commercial organisation. Cutting Edge provides flexible and agile world-class surgical solutions to serve its worldwide partners. Cutting Edge SAS headquarters are in Montpellier, France.