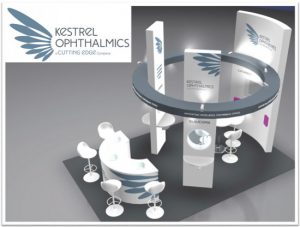 Kestrel Ophthalmics (a Cutting Edge Company) announced today it launched its new brand identity at the Royal College of Ophthalmologists congress in Liverpool (UK).
Nearly 4,000 ophthalmologists and health care professionals are attenting this year scientific programme, seminars and surgical skills courses organised by the #RCOphth17 committee.
"Our new brand relaunch represents the natural evolution and transformation of our business. More than ever, Kestrel's sense of Excellence, Innovation, Partnership and Ethics are four pillars at the cornerstones of what we do and our guiding principles that sit at the heart of our business" commented Maria Ponsford, Strategic Development Manager.
Read more the recent acquisition of Kestrel Opthalmics Ltd by clicking here.
—
Cutting Edge SAS builds experienced and dedicated teams to design, prototype and manufacture high-quality Intraocular Lenses. Cutting Edge' state-of-the-art facility located in Toulouse, France honours the quality and process sophistication of the medical device industry. Cutting Edge's creative Research & Development department is continuously searching for new and innovative products and solutions in the field of eye surgery in conjunction with our network of scientific partners, suppliers, and commercial organisation. Cutting Edge provides flexible and agile world-class surgical solutions to serve its worldwide partners. Cutting Edge SAS headquarters are in Montpellier, France.
©2017 Cutting Edge SAS